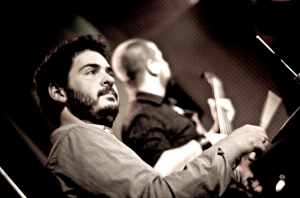 Kostis became familiar with percussion instruments relatively early in his life, while listening to his father playing the drums day and night in his childhood home in Athens. He started playing drums at the age of 7 "playing along" with CDs of Beatles, Led Zeppelin, Pink Floyd, TOTO and Chris Rea. Although mainly a pianist, his early commissions as a session musician required him to perform drums and other percussion around Greece. This fact played a major role in Kostis's compositional character, employing a variety of rhythmic and polyrhythmic elements in his concert and film music, dominated by percussive sounds and patterns.
At the age of 20 he came across the Peruvian percussive instrument cajon, and after collaborating with the German flamenco guitarist Roland Hoffmann, Kostis started preforming cajon intensively in world-music groups around Greece.
Kostis's first appearance in discography was as a drummer and founding member of the group Mat Se Dyo Ifesis (Checkmate in Two Flats) from Athens, with whom he now counts 4 CDs and quite a few collaborations with established Greek singers and instrumentalists.
As a drummer, he has performed with blues and trip-hop bands around Greece and world-ethnic bands around Europe, including the band Night on Earth.